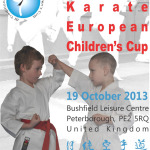 3rd Traditional Karate European Children's Cup is now history. The competition took place on 19th Oct. in the main sports hall at Bushfield Leisure Centre in Peterborough, UK. We had a chance to watch efforts of over 200 young Traditional Karate athletes from 7 countries (UK, Poland, Czech Republic, Armenia, Lithuania, Russia and Latvia). The grand, official opening was delivered by the Mayor of the City of Peterborough, Madam June Stokes – the Honorary Patron of the event – who passed on her appreciation to Traditional Karate Academy Boston for organizing an event of such high standards. Words of appreciation also came from Vice-Consul, Grzegorz Sala who spoke on behalf of the Ambassador of the Polish Republic, Mr. Witold Sobkow. The effort and passion were also noticed and acknowledged by the Mayor of Boston, Mr. Paul Kenny who, inspired by the tournament and volume of action undertaken by the Boston Academy declared his personal engagement into propagating Traditional Karate.
Another person who could not have been missed among the guests was sensei Wlodzimierz Kwiecinski, 7 Dan, a/a ITKF Chairman, the mentor or numerous karate athletes in the world. It was him  emphasize that any competition in Traditional Karate is only an integral part of training whose aim is not only becoming better and better on the tatami, but consequently, through those virtues of character shaped by restless effort in Dojo, in the life itself.
The main referee was sensei Nelson Carrion, 6 Dan, who commented upon a very high level of technical preparation of the young athletes.
There was a special event that drew enormous attention from all the spectators, namely a special demonstration presented by World Champions, sensei Daniel Iwanek, (3Dan) and sensei Pawel Janusz (3 Dan).
There were a lot of great emotions and huge applause coming from all the enthusiasts of the beautiful art of Traditional Karate. The strongest representation came from Poland and this is the Poles who won the most medals proving for the next time their belonging to the best in Europe and also in the world.
RESULTS