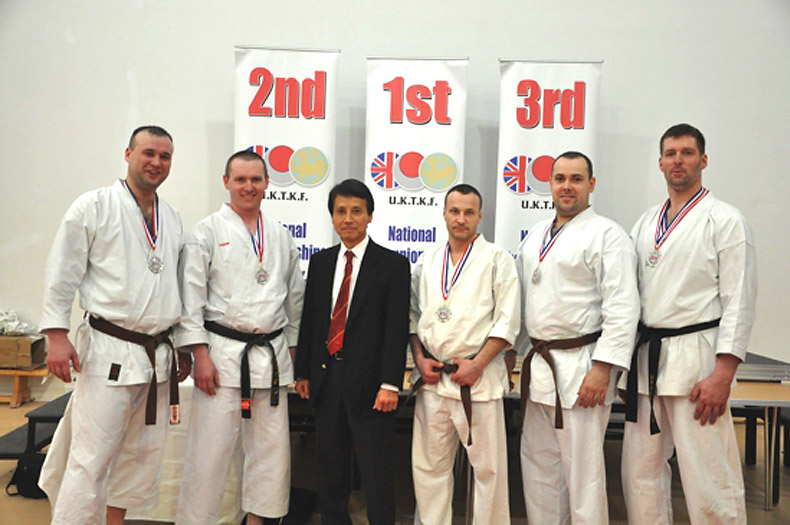 This year's UK National Traditional Karate Championships held on 16th March 2013 in Paisley, Scotland were yet one more confirmation of high disposition of Boston athletes. There were more that 200 competitors in the event, all affiliated to UKTKF (United Kingdom Traditional Karate Federation).
Special attention is to be directed to high level of  performance delivered by TKAB (Traditonal Karate Academy Boston) representatives, who managed to secure two silver medals. The first one, for team kata was won by: Zbigniew Godzisz, Pawel Kutermankiewicz and Andrey Skarzinskiy and the second one was handed over to kumite team: Andrey Snevelis, Pawel Kutermankiewicz and Rafal Labuda. On medal presentation our champion teams were greeted by Sensei Masao Kawasoe – 8th Dan legend of world Karate – himself.
This was the third consecutive participation of our fighters in the UK National Championships and each time we have proved very good disposition. It has been confirmed by our high achievements. Two years ago we were golden medallists, last year we won vice-championship and this title has been defended this year so we prove to belong to the best in the UK
– said Zbigniew Godzisz (3rd Dan ITKF), chief instructor TKAB.
Apart from their spectacula succes on UK's tatamis, TKAB can boast numerous events they have organised, such as training seminars hosted by world's most renowned instructors, among others Richard Jorgensen (7th Dan) from Canada, President of International Traditional Karate Federation (ITKF), or Wlodzimierz Kwiecinski (7th Dan), Vice-President of International and European Traditional Karate Federation (ITKF and ETKF). Very soon TKAB will be facing another challenge and responsibility of coorganising 3rd European Traditional Karate Children's Cup. The competition will be held on 19-20th Oct 2013 in Peterborough, UK. All the real fans of this beautiful martial art are more than welcome.