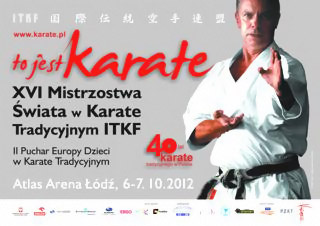 For the two days of 6th and 7th October 2012 the Lodz Sports hall Atlas Arena became the host for the 16th Traditional Karate ITKF World Championship. Alongside the main event one could also witness the 2nd Traditional Karate European Children's Cup, where the youngest athletes came competing, representing Traditional Karate clubs from all over Europe. The very special character of the event was highlighted by the fact that it obtained honorary patronage from the Minister of Sports and Tourism of the Polish Republic, Joanna Mucha.
The choice of the venue for the Championships was not at all accidental. Lodz has the status of the craddle of Polish Traditional Karate and this year is 40th anniversary of when its history began when the initial trainings were held with sensei Chiyomaro Shimoda – the first Japanese karate instructor in Poland. Up to the present day the city of Lodz has been the most buoyant centre of Traditional Karate.
For the first time the Championships were open for younger age categories. Up to day the competition was only designed for the seniors but the year 2012 has seen major changes and three new groups: cadetts (14-15 yo), juniors (16-17 yo) and youth (18-20) have been allowed to compete.
Almost 400 best karate athletes from 27 countries from all over the world competed for World Champions' medals this year. They represented the sates of: Argentina, Armenia, Austria, Brasil, Canada Chile, Cyprus, Czech Republic, Egypt, France, Germany Israel, Italy, Lithuania, Macedonia, Moldova, Poland, Russia, Romania, Serbia, Turkmenistan, Ukraine, the UK, Uruguai, the USA and Uzbekistan. The tournament was watched by several thousand enthusiasts of this martial art, who arrived in Lodz from the whole country as well as from different corners of Europe. And they did have strong reasons to be glad as the bar for the final fights was set to the highest standards.
Among all the countries and their representations Poland was classified in the first position.
Polish competitors gathered 20 medals altogether, including 7 gold, 10 silver and 3 bronze.
The specific atmosphere of the championships was also noticed by the representatives of International Traditional Karate Federation (ITKF):
The Championships organised by Polish Traditional Karate Federation were a real delight due to it's specific, exceptional atmpsphere. When appointing Poland for the endeavour of organising this most important competition we did not have a slightest doubt about it being prepared perfectly. And we were not disappointed. I am still under a strong impression its course and the audience who filled the tribunes and stands and cheered the competitors with great intuition and ethusiasm.
emphasised Richard Jorgensen, President of the International Traditional Karate Federation (ITKF).